F2370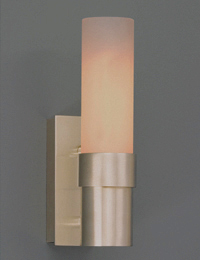 F2370 SN Satin Nickel Fluorescent Micro-Sconce
Features

Mounts to a 1 3/4" x 2 1/2" switch box.
8 1/2" x 2 1/2" x 3 1/2" extension
Frosted Cylinder "Candle" glows
One Mini Fluorescent Lamp, 9 watt

Light Bulbs
Uses PL-9 Fluorescent Light bulb.
6-1/2" long, 2" wide, line voltage, frosted glass 10,000 hour life, 2-pin plug-in base.
We recommend Frosted lamps in all applications.

Finishes
Antique Brass (AB), Antique Bronze (BA), Antique Pewter (AP), Brass Patina (BP), Clarus Bronze Gloss (CBG), Clarus Bronze Matte (CBM), Diamondclad Polished Brass (DPB), Diamondclad Polished Nickel (DPN), Diamondclad Satin Brass (DSB), Diamondclad Satin Nickel (DSN), Lacquered Gunmetal (GM), Matte Black (MB), Matte White (MW), Oil Rubbed Bronze (ORB), Polished Brass (PB), Polished Chrome (PC), Polished Nickel (PN), Rustic Bronze (RB), Rustic Copper (RC), Satin Brass (SB), Satin Nickel (SN), and Verdi Green (VG) Finish Details…
Cut Sheet
For PDF cut sheet click here.

Specification
Detailed specification drawing is available for this fixture. Click here.