C1770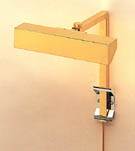 Shown: C1770 PB Polished Brass Picture Light with one light source
Features

Optional Cord switch Included
Mounting bracket with vertical adjustment
Adjustable extension 9" to 12"
180 degree lockable swivel head
Shade length: 9"

Light Bulbs
1 - 25 watt T-6 1/2 lamp
Incandescent, 5 1/2" long, 1-1/4" diameter, line voltage, frosted glass, intermediate base, 1000 hour life.
Finishes
Antique Brass (AB), Antique Bronze (BA), Antique Pewter (AP), Brass Patina (BP), Clarus Bronze Gloss (CBG), Clarus Bronze Matte (CBM), Diamondclad Polished Brass (DPB), Diamondclad Polished Nickel (DPN), Diamondclad Satin Brass (DSB), Diamondclad Satin Nickel (DSN), Lacquered Gunmetal (GM), Matte Black (MB), Matte White (MW), Oil Rubbed Bronze (ORB), Polished Brass (PB), Polished Chrome (PC), Polished Nickel (PN), Rustic Bronze (RB), Rustic Copper (RC), Satin Brass (SB), Satin Nickel (SN), Weathered Nickel Dark (WND), Weathered Nickel Light (WNL), and Verdi Green (VG) Finish Details...
Cut Sheet
Click image for presentation quality, printer formatted cut sheet.

Installation
To hardwire and operate from a wall switch, use clock outlet.
Specification
Detailed specification drawing is available for this fixture. Click here.