C1410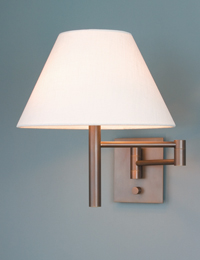 C1410SL RC Rustic Copper Swing Arm Wall Lamp with Silk Linen Shade
Features

With on-off switch only
Floating Backplate of 1/8" Brass Plate
Outlet Mount or Pin-up with Square Tubing Cord Cover
Extends to 22 1/4" including shade
2 A-Lamps, 75 watt maximum each

Shades
Shades with spiders are interchangeable. When ordering, designate shade type by letter OB, SB, SL, or M2 following the lamp number. Shade Details…
Light Bulbs
2 - 75 watt A lamp.
We recommend Frosted lamps in all applications.

Finishes
Antique Brass (AB), Antique Bronze (BA), Antique Pewter (AP), Brass Patina (BP), Clarus Bronze Gloss (CBG), Clarus Bronze Matte (CBM), Diamondclad Polished Brass (DPB), Diamondclad Polished Nickel (DPN), Diamondclad Satin Brass (DSB), Diamondclad Satin Nickel (DSN), Lacquered Gunmetal (GM), Matte Black (MB), Matte White (MW), Oil Rubbed Bronze (ORB), Polished Brass (PB), Polished Chrome (PC), Polished Nickel (PN), Rustic Bronze (RB), Rustic Copper (RC), Satin Brass (SB), Satin Nickel (SN), Weathered Nickel Dark (WND), Weathered Nickel Light (WNL), and Verdi Green (VG) Finish Details…
Cut Sheet
For PDF cut sheet click here.

Specification
Detailed specification drawing is available for this fixture. Click here.