C1160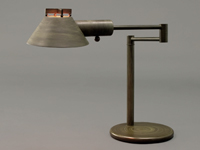 C1160Z VG Verdi Green Pharmacy Desk Lamp with Round Base and Z Shade
Features

With Full Range Electronic Dimmer
Height 14", extension 17" without shade
Head Rotates 360 Degrees

Shades
All Pharmacy shades are interchangeable. When ordering, designate shade type by letter A, J, G, or Z following the lamp number. Shade Details…
Light Bulbs
See Shade Details for Light Bulb Requirements.
We recommend Frosted lamps in all applications.

Finishes
Antique Brass (AB), Antique Bronze (BA), Antique Pewter (AP), Brass Patina (BP), Clarus Bronze Gloss (CBG), Clarus Bronze Matte (CBM), Diamondclad Polished Brass (DPB), Diamondclad Polished Nickel (DPN), Diamondclad Satin Brass (DSB), Diamondclad Satin Nickel (DSN), Lacquered Gunmetal (GM), Matte Black (MB), Matte White (MW), Oil Rubbed Bronze (ORB), Polished Brass (PB), Polished Chrome (PC), Polished Nickel (PN), Rustic Bronze (RB), Rustic Copper (RC), Satin Brass (SB), Satin Nickel (SN), Weathered Nickel Dark (WND), Weathered Nickel Light (WNL), and Verdi Green (VG) Finish Details…
Cut Sheet
For PDF cut sheet click here.

Specification
Detailed specification drawing is available for this fixture. Click here.